Oh, yes-another great recipe coming to you from the PIT cooks! We've got samples at the store that you can "try before you bake" or just eat and say "yum!" The samples in colored bags have no nuts (my fav) and the clear bags have the nuts!
Remember-all your donations for the samples go to The Wounded Warriors Project, helping our guys and gals returning from war get back on track and resume normal lives as much as possible! We appreciate all of them! You are our heroes! We're requesting a donation of at least $1 per bag this week. Thanks for your support!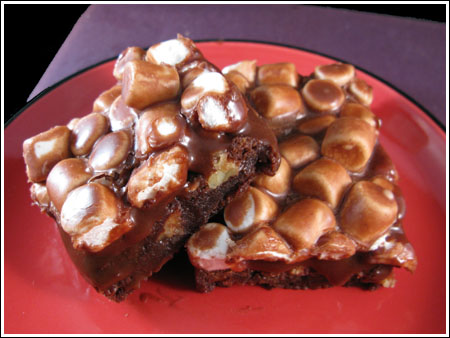 Mississippi Mud Bars
1 Cup butter
1 cup milk
1/2 C unsweetened cocoa powder
1/2 C water
2 large eggs
1 tsp vanilla extract
2 C sugar
2 C all purpose flour
1 tsp baking soda
3 C miniature marshmallows
1 1/2 C chopped and toasted pecan (optional)
Mississippi Mud Frosting (recipe to follow)
1.   Preheat oven to 350 degrees.  Greae and flour a 15" x 11" jelly roll pan
2.  In a medium saucepan, melt butter over medium heat, whisking continually.  Remove from heat;  stir in vanilla.
3.  In a large bowl, combine sugar, flour, and baking soda.  Pour butter mixture over sugar mixture, whisking to combine.  Pur into prepared pan.  Bake for 20 minutes.  Immediately sprinkle marshmallows and pecans evenly over hot cake.  Pour hot Mississippi Mud Frosting over cake, spreading with a knife if necessary.  Let cool in pan completely.  Cut into squares to serve.
Frosting
1/2 C butter                                                   1/2 c evaporated milk
1/3 C unsweetened cocoa powder           1 tsp vanilla extract
4 1/2 C confectioners' sugar
In a medium saucepan, melt butter over mediu heat.  Whisk in milk, cocoa, and vanilla.  Bring to a boil, whisking constantly,  Remove from heat.  Whisk in confectioners' sugar until smooth.